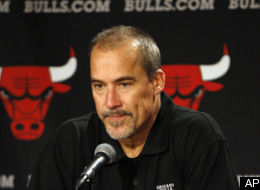 The Bulls remain confident that Derrick Rose will bounce back from his latest knee surgery and will be "a great player" again, according to executive vice president John Paxson.
"We do believe that Derrick's going to be a great player again," Paxson said during Tuesday's news conference. "We can't promise anybody that, but that's a belief of ours because we know Derrick well enough and we think he's going to work hard enough. But the challenge always is building a team and putting the group of players together -- in this case it might be more about building with Derrick, as opposed to saying, 'OK, Derrick, you got to shoulder all the burden.' But that's OK. Because I've seen plenty of teams win in this league, too, at a very high level, going about it that way."
Paxson understands some fans may not be happy with the organization's decision to deal All-Star forward Luol Deng, but he is confident the Bulls can retool their roster, instead of rebuilding it completely. What remains to be seen is if they will rebuild it completely around Rose given the fact he has played in only 50 games in the past three seasons.
"There's an unknown there," Paxson said. "I think if you ask Derrick he's going to tell you, as he did in his press conference, don't count him out. And we certainly don't. We also know that the challenge for us over the years has been to continue to find playmakers to go with Derrick. Let's face it: The league is a superstar league, in terms of guys at the top of your roster. That's how the teams that have a couple great players are usually the teams at the end of the day that win. But there's also a team-building component that I think is underrated and undervalued. You look at the Indiana Pacers right now, they've done a terrific job in team building. They've done some through the draft, they've done some through signings, things like that."
Read more
http://espn.go.com/chicago/nba/story...t-player-again