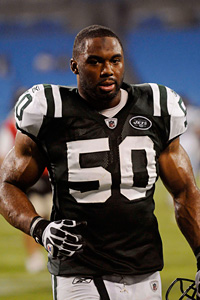 When Bears' General Manager Jerry Angelo traded for franchise QB Jay Cutler, he had to give up two future first round draft choices. In a decidedly left-handed compliment, many fans praised the move in part because as they saw it, "Angelo doesn't know what to do with first-round picks anyway."
In the recently-completed free agent free-for-all, Angelo re-stocked the team's first-round stream, signing 4 former #1s to free agent contracts. That's the good news. The bad news is that each of these players is, to varying degrees, considered a disappointment to this point in his career. Let's meet the Bears' "Hell Bent for Redemption" 2011 free agent class.
Roy Williams WR 6-3 215lbs - 7th overall pick in the 2004 NFL draft
In truth, this is a third chance for Williams. He got off to a solid start with Detroit, averaging over 60 catches per year in his first 4 seasons and being selected for the 2006 Pro Bowl team. In 2008, the Calvin Johnson took over Williams' role as the Lions "go-to guy" and Detroit traded Williams in mid-season to the Cowboys for a first-round pick and 3 later-round selections.
Williams' 2 1/2 seasons in Dallas were very disappointing. Williams never caught more than 38 passes and gained a reputation as a receiver who couldn't (or wouldn't) make the big catch in traffic...some said he had a bad case of "alligator arms." It probably didn't help his popularity that, despite his lack of production with the Cowboys, Williams confidence/cockiness never wavered.
Williams reportedly signed a one-year $1.5million contract with the Bears. Frankly, this is dirt cheap for a player of Williams' talent. It's clear that Williams is placing a bet on himself and hoping that being re-united with Bears' Offensive Coordinator Mike Martz, who he worked under during his best years with the Lions, will put his career back on the rails.
Chris Spencer C 6-3 309lbs - 26th overall pick in the 2005 NFL draft
Bears' longtime alpha male center Olin Kreutz is out and Spencer is in. Centers aren't often taken in the first round and Angelo's right hand man Tim Ruskell, then the GM of the Seahawks, is the man responsible for giving Spencer this distinction. To be fair to Spencer, he's only a disappointment relative to where he was drafted. He's a good player and is a better fit for Martz's offense which values size and strength on the offensive line over speed and quickness.
Spencer reportedly signed a two-year $6million contract...pretty good money for an NFL center. Despite some early training camp talk that guard Roberto Garza may move over to start center, I don't believe it for a minute. Spencer's the guy.
Amobi Okoye DT 6-2 292lbs - 10th overall pick in the 2007 NFL draft
Okoye was only 19 when Houston drafted him. The Texans play a 3-4 defense so they lined Okoye up at nose tackle. In today's NFL, there aren't many successful nose tackles who weigh in under 300 pounds and Okoye wasn't the dominant force inside that the Texans had hoped. Coming out of college, many scouts compared Okoye to former Bear Pro-Bowler Tommie Harris because of his size and explosive quickness. The Bears hope that he'll flourish in the Bears' 4-3 defensive scheme and specifically at Harris's "3 technique" tackle position.
Of all the Bears' free agent signings, I'm most intrigued by Okoye. Okoye signed a one-year deal (amount undisclosed) so like Roy Williams, he's betting on himself. He's also betting on the expectation that, unlike Houston, the Bears will put him in a better position to succeed. He's talented, motivated and by all reports, a hard worker. Despite the fact that he has 4 NFL seasons under his belt, he just turned 24. Keep an eye on this kid.
Vernon Gholston DE 6-3 262 - 6th overall pick in the 2008 NFL draft
Coming out of Ohio State where he starred at defensive end, Gholston simply blew the scouts away at the Indianapolis combine. Speed, quickness, strength, you name it...Gholston's marks were off the charts. The Jets picked him to be a featured player in new coach Rex Ryan's attacking defense, moving him from defensive end to outside linebacker. Visions of Lawrence Taylor danced in Jets fans' heads.
Whether it was the change of position, the transition from college to the pros or something within him, Gholston was remarkably unproductive in New York. The New York press labeled him one of the most spectacular "busts" in NFL history and while they can be accused of being a little quick on the trigger (he's only played 3 seasons), the numbers don't lie...no sacks in 3 years.
Gholston's picture tops this article. The old line about a guy who "looks like Tarzan, plays like Jane" unfortunately comes to mind.
Still, the Jets' Ryan was complimentary of Gholston's coachability and progress, "The guy is an excellent teammate. He did what was asked and he got better." When asked about Gholston's low production, Ryan said, "Well, then I failed as far as the numbers go...but I thought he got better. We'll see what happens to him. He's not done playing"
Like Okoye, the Bears are hoping that the combination of a change of position (he'll have his hand on the ground with the Bears), the tutelage of Defensive Coordinator Rod Marinelli (great reputation working with defensive linemen) and a change of scenery will bring out the best in Gholston.
Gholston is yet another one of the once-highly-touted Bears' free agent signees who agreed to a one-year deal (amount undisclosed). Like Okoye, he's a low-risk/high-reward proposition.
Other Bears' Free Agent Signees
The Bears didn't limit themselves to signing other teams' former first round picks. For starters, they re-signed several of their own free agents, including DT Anthony Adams, outside linebacker Nick Roach who figures to start alongside stud LBs Brian Urlacher and Lance Briggs and center-guard Edwin Williams.
To add depth to the running back position, the Bears signed former Cowboys' RB
Marion Barber.
A 4th round pick in 2005, the 5-11 221lb Barber is a tough inside runner who has had two 900+ yard seasons in his 6 years in the league. He signed a two-year $5million deal and figures to be used in short-yardage situations while providing solid insurance in the event starter Matt Forte gets injured.
Last offseason, Martz told Angelo that his offense needed a big block-first tight end so they signed the genuinely massive 6-2 288lb Brandon Manumaleuna. As advertised, Manumaleuna wasn't much of a receiving option, but unfortunately he also wasn't much of a blocker. Martz got a do-over and this time the Bears went with the Steelers'
Matt Spaeth
. At 6-7 270lbs, Spaeth is also a block-first TE, but provides a bigger target and more speed than the failed Manumaleuna.
On special teams, the Bears told longtime punter Brad Maynard to take a hike and signed Jets punter
Adam Podlesh
. Rather than giving you a rundown on Podlesh, I'll let highly-respected Bears' Special Teams Coach Dave Toub handle the honors.
"Podlesh was always our No. 1 guy," Toub said. "He was always our No. 1 guy. He's the guy we targeted early way back. We were so happy to get him. As soon as we were able to call him, we tried to recruit him just like we were in college again. He fits us. He's very athletic, he runs a 4.4 [40 yard dash], he's got a great hands, he's a directional punter. He's a young Brad Maynard is what he is. He's reaching his prime right now. Again, we're very happy and pleased to have him in the mix."
Not sure what I can add other than that I was a Maynard fan and Toub better be right.
The Bears also let longtime special team stalwart Rashied Davis sign with Detroit and signed the Cowboys special teams captain and sometimes WR
Sam Hurd
. Again, I'll turn it over to Toub.
"We targeted Hurd during the offseason as a guy we would try to get no matter what as a free agent," Toub said. "He's an excellent special teams player. He's going to bring a lot to the table for us."
On this one I completely agree with Toub. Davis was a good player, but Hurd is better.
Frankly, I think every single free agent signing the Bears made this offseason makes sense on some level. Williams, Barber, Spaeth and Hurd are clear upgrades. Much as I respect Kreutz, I think that right now, Spencer's a better player and better suited to the Martz offense. Okoye and Gholston are fun gambles because they're both cheap...neither is expected to play a key role.
With all this said, a big part of the Bears' free agent story isn't what they did, but what they didn't do...specifically, other than the Spencer-for-Kreutz change that many feel is a net negative, they didn't bring anyone in to help shore up the 2010 team's glaring weakness on the offensive line (though I guess you could say Spaeth gets half credit). Williams and Barber are fine offensive additions, but they won't matter much if Cutler spends another season on his back, and they certainly won't matter if Cutler gets broken and the team's fortunes depend on backup QB Caleb Hanie.
The only meaningful addition to the O-line is first-round tackle Gabe Carimi. Right now, the depth chart has 2011 7th-round pick J'Marcus Webb as the starting LT, the most important position on the offensive line when it comes to the prospective health of a team's QB. I understand that Martz and offensive line coach Mike Tice are high on Webb and they know a whole lot more about football than I do, but I'd be less than honest if I didn't say that I remain nervous about LT and Cutler's health. I'm not worried about Spencer at center and I remain a fan of Garza at guard. Carimi may have some growing pains, but I like him at right tackle.
The other guard is an issue. Chris Williams, the Bears former first-round pick and failed LT of the future is now a reclamation project at guard. One of what I felt were the defining moments of the 2010 season for Williams was when the overrated/underachieving Albert Haynesworth of the Redskins flat-out freight-trained Williams like he wasn't there and destroyed poor little Cutler. Forget being a highly-touted first-round tackle...if Williams can't be a competent guard, Tice needs to replace him with a mediocre journeyman like Omiyale.
The weakness of the O-line remains the "elephant in the room" for this Bears' team.
If the Bears were making a meal, I'd praise them for their eye for value in terms of the side dishes and agree that those side dishes could be spectacular. My problem is with the main course whose success depends on the quality of their iffy offensive line.
It seems that they're confident in their meal.
The proof is in the tasting.
Tom Nossem