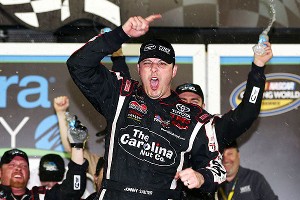 Johnny Sauter was taken out on the final lap at Daytona International Speedway last year.
On Friday night, another late wreck helped him get to Victory Lane.
Sauter caught a break when defending series champion James Buescher crashed on the final lap of the Trucks Series opener, bringing out a caution that prevented veteran Kyle Busch from making a last-lap move on the leader.
Instead, Sauter cruised to victory.
"I was having flashbacks of last year," said Sauter, who was turned by race winner John King in 2012. "They always say you want to be second going into the last lap. It just didn't work out that way. ... I'm not going to lie, I was happy to see that caution come out at the end. Just a wild race. Speedway racing is just crazy. ... I'm just ecstatic to be in Victory Lane."
Getting there wasn't easy, either. After Sauter performed a burnout, he got lost trying to find Victory Lane.
"I didn't have a clue where it was," Sauter said. "I couldn't see. I was relying on the spotter to tell me where to go. He told me to turn into that entrance. It was the wrong one. Nobody was more confused than I was."
Read more
http://espn.go.com/racing/nascar/tru...opener-daytona