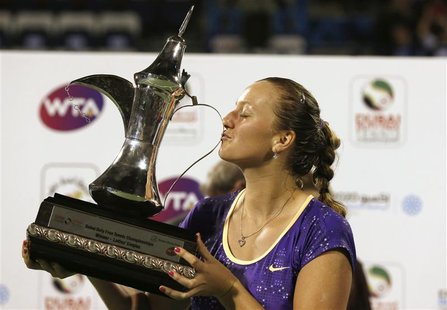 Former Wimbledon champion Petra Kvitova won her first title in six months when she beat Sara Errani 6-2, 1-6, 6-1 in the Dubai Championships final on Saturday.
Kvitova also beat the Italian en route to her previous title -- her ninth -- in New Haven on the eve of the U.S. Open.
Despite her improving game, Kvitova downplayed her latest success.
"I am not thinking like this is a turning point or turning tournament for me," said Kvitova, who won Wimbledon in 2011. There are "a lot of great players in the top, and that's hard to beat them. I'm still thinking about my game. That's the priority for me."
She had won her previous three matches with Errani, ranked one spot better than the Czech at No. 7, but this was their toughest match yet.
Errani lost the first four points and her serve, and Kvitova easily won the first set.
The Czech appeared to lose her focus in the second set, committing consecutive double faults and winning just one game. Kvitova had eight double faults, which she attributed to a shoulder problem that has been troubling her since Doha the previous week.
"Yeah, I know, that is a lot of double faults, and it wasn't really good in my mind to (be) thinking about it," she said. "But I played another top-10 player. That's OK."
Read more
http://espn.go.com/tennis/story/_/id...tle-six-months