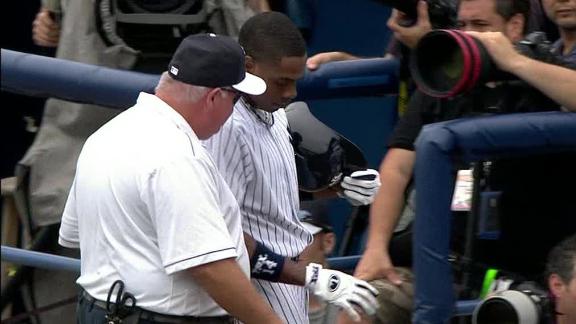 New York Yankees outfielder Curtis Granderson suffered a fractured right forearm Sunday after being hit by a pitch in his first at-bat in a spring training game and will be out until at least the first week of May.
Granderson was hit by a 2-2 pitch from J.A. Happ and left the game in obvious pain. Originally, the injury was announced as a bruised forearm but he was taken to a local hospital for X-rays, which revealed the fracture.
The Yankees announced that Granderson will be "major league ready" in 10 weeks, or by approximately May 5.
"Obviously it's a big bump in the road," said Granderson, wearing a removable brace on his right arm. "To be down, pout, all of those things isn't going to change anything. We just continue to move forward."
It was to have been Granderson's first game in left field as the Yankees experiment with moving Brett Gardner to center field, but Granderson never got a chance to field a ball in the outfield.
Instead, he caught a fastball from Happ with two runners on and two out in the bottom of the first and was in obvious pain as he headed to first base, where he was met by manager Joe Girardi and a team trainer. Granderson was immediately removed from the game, though neither he nor Girardi initially believed the injury to be serious.
"It was just one specific spot," Granderson said. "Nothing moved up or down. No numbness. No tingling. Just that spot. Kind of felt like you hit your funny bone, but only in that spot."
Read more
http://espn.go.com/new-york/mlb/stor...ks-forearm-may